Seeing how the 48th anniversary of Earth Day is coming up, we are devoting today's post to the role of startups in driving forward environmental sustainability, with a specific focus on Germany.
The world has come a long way since 1970, when the first Earth Day was organized in the US in response to a massive oil spill in Santa Barbara, California the year before. The environmental movement has since become a global phenomenon, as the scientific evidence for anthropogenic climate change has become more and more compelling. Our understanding of sustainability has also evolved to encompass not only the environment, but also society and economy (the so-called triple bottom line), for it has become increasingly apparent that we cannot have one without the other.
While addressing climate change has historically been the task of national governments and international organizations, the importance of actors like municipalities and companies in driving the climate change agenda has increased in recent years, according to authoritative institutions like the Intergovernmental Panel on Climate Change (IPCC) and REN21. Companies of all sizes are quintessential to shaping consumer behavior, and therefore to influence aspects of consumptions that are difficult to be influence or nudge through policies. Since startups tend to be more innovative and risk-seeking compared to their more established counterparts, they have been at the forefront of addressing some of the environmental problems of our day, for which larger companies have yet to find sustainable business models.
According to a survey conducted by the Borderstep Institute for Innovation and Sustainability and the University of Oldenburg in 2017, some 36,400 startups were founded in the field of green economy in Germany in 2015-2016, representing roughly a sixth of all startups founded in that timeframe. By far the most popular areas of activity for green startups were energy efficiency (40%), circular economy -i.e. closing the linear production-consumption-waste process – (17%), sustainable food and agriculture (17%), renewable energy (13%), and avoidance of emissions (11%). It is likely no coincidence that these areas of activity correspond to the main sources of environmental impact in Germany and developed countries in general – energy and agriculture.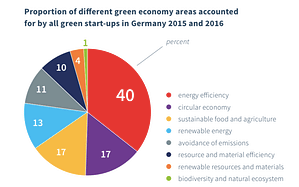 Figure 1: Green startups and their areas of activity in Germany in 2015-2016. Source: Bordership Institute for Innovation and Sustainability and University of Oldenburg (2017). Green Economy Start-up Monitor.
But numbers only tell part of the story, for the range of ideas amongst green entrepreneurs in Germany is very broad. Below we profiled three interesting environmentally friendly startups, with the mention that there are many more out there to choose from. 
Lilium has devised an electric vertical takeoff and landing jet that addresses the issues of pollution and greenhouse gas emissions associated with traditional transportation. Additionally, the so-called air taxi saves passengers time by helping them avoid traffic jams.The jet has zero operational environmental impact and is 100% emission free. The ambitious Munich-based team aims to have the first operational prototype up in the air by 2019 and secured the third largest investment out of all the green startups in Germany in 2017, or €76 million.  
Plan A is an information sharing and donation platform solely dedicated to climate change mitigation and adaptation.  Their model is one campaign, one cause, one month. Simply put, they promote awareness about and raise financing for a different cause every month. The causes fall under six main categories — forests, energy, wildlife, oceans, waste, and sustainable living.  Previous campaigns include "Let the rivers run free", an initiative aiming to raise awareness of the environmental impact of hydropower installations in the Balkan region.
Climate-Kic is a European knowledge and innovation community.  Its goal is to create a prosperous, inclusive, and climate-resilient society founded on a circular, zero-carbon economy.
What does that all mean in practice, you may ask?  What that means is that Climate-Kic provides financing, technology, and guidance to the climate-friendly companies with which they partner. In total, they have incubated over 900 climate-positive companies.  They also provide educational programs for students, postgraduates, and professionals.
Their accelerator program includes the Climathon, which is a global 20-hour climate change hackathon aiming to create innovative solutions to climate challenges.
AtomLeap itself has accelerated several sustainability-minded startups. For instance, Chargery, one of the startups in the current round of the AtomLeap High-Tech Accelerator, provides a mobile charging solution for electric vehicles, in the hope that such a solution will facilitate the uptake of low-carbon transportation. Not only that, but a number of our upcoming startups are also working with sustainable transportation and mobility. But more about that in the coming weeks and months.
But you don't have to found a startup in order to aid the drive to greater environmental sustainability, for consumers are important pieces of the puzzle. If you are thinking of taking action this coming Earth Day, here are a few greener options you could try:
       open the windows in the summer to facilitate air circulation;
       wear warm clothes in the winter in order to reduce energy expenditure on heating;  
       install LED lights which can save energy in the long run;
       carpool to work, take public transit, and ride a bike;
       encourage telecommuting and save on utility bills.
With all this in mind, think about how you can reduce your carbon footprint and waste consumption.  As Earth Day approaches, consider how you can make a difference. We can not tackle climate change all at once.  Rather, we will make a difference by making small changes everyday. If every person becomes more aware of their impact on the planet, we may be able to better equipped to protect the environment that supports us.
So, this April 22, make the conscious decision to protect the planet and make a habit out of living more sustainably. Sustainability must pervade our day-to-day activities if our actions are to be effective.  
Feel free to share your comments below on how your startup will celebrate.  At AtomLeap we too are leaning towards more sustainable practices and energy conservation.  From buying reusable toilet paper to working with reusable energy startups, we support a cleaner environment.