Editor's Note: This article has been created in collaboration with Circuteria, one of the startup teams of the High-Tech SeedLab accelerator program 2021.
In the consumer products industry, there still remains a lack of information and understanding in regards to sustainability. For example, many manufacturers want to make more sustainable products with biopolymers, but often do not know what materials to use.
The digital platform developed by Circuteria addresses such problems by connecting all stakeholders along a circular bioeconomy, in which bioplastics are an essential component (Fig. 1). Bioplastics are made from renewable biomass such as food waste from private households or green waste from a local farm, directly as a material, or indirectly as an energy source. The other way around, biomass can be made (via composting) from degradable bioplastics, even if it is contaminated with food. Therefore, this cycle between bioplastics and biomass is renewable.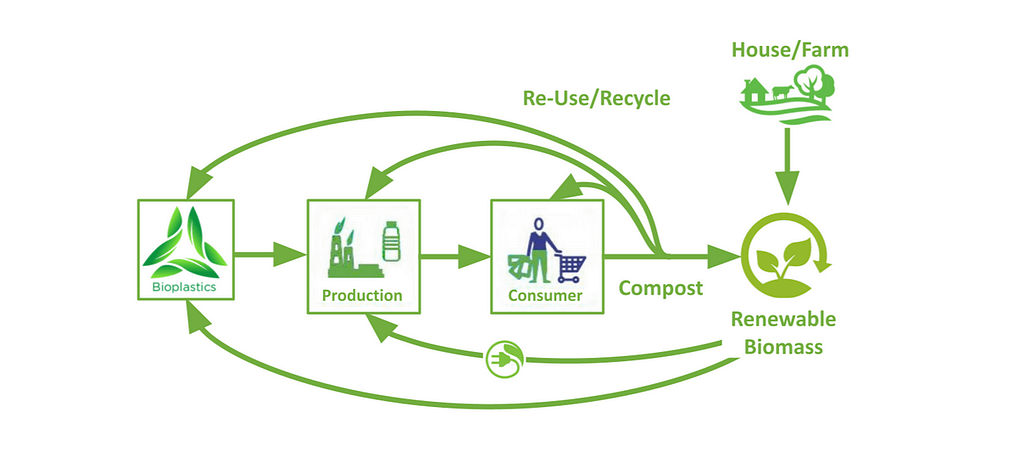 A central component of Circuteria's concept is its Fantastic BioMaterial Finder, which product manufacturers can use to compare their conventional plastics with bioplastics and replace them on a product-specific basis. In the Finder's first prototype (Fig. 2), manufacturers but also consumers can type in their currently used plastic ID (e.g., "PET") and obtain information about the best bioplastics alternatives offered by a supplier (e.g., "Bio-PET" with sustainability information not shown).
In an advanced version, simulations allow the user to refine their bioplastics findings for their specific product (e.g., "Heat Transfer Simulation"). Circuteria also maintains a website (www.circuteria.com), where potential customers can inform themselves about bioplastic materials and products.
Ultimately, Bioplastics still have a long way to go: Currently, the bioplastics market is very low at around 1% of the total plastic production, because of undeveloped economies of scale and the low price of oil. Within the next ten years, however, bioplastics will grow up to an estimated 18% market share. There are many drivers for this change: One of them is policy engagement. For example the European Union just agreed on a plastic tax for all non-recyclable products – this is just one of their measures towards a circular economy. Another one is Corporate Vision: Lego announced that by 2030, it will produce all products from renewable plastics. And scientific breakthroughs make bioplastics competitive not only in price and sustainability, but also in material properties.
The Fantastic Bioplastic Finder helps to speed up this development so that in the future, more sustainable products can be made with the help of biomass.
Circuteria is still looking for feedback from material suppliers and product manufacturers. If you are interested, please contact [email protected].
The High-Tech SeedLab's 10-month acceleration program is designed to help early-stage teams to test their idea and business model, build or finalise a minimum viable product, and successfully launch their business.
If you are interested to learn more or want to support, please contact [email protected]. Make sure to also follow us on LinkedIn to keep up with the latest news.
This program is financed by the European Social Fund (ESF), as well as the State of Berlin.