In our everyday life we are surrounded by technological innovations and working within the ever-changing Berlin startup scene especially tends to make you feel like the next exciting tech startup is just around the corner. For a couple of years now, investors and corporates are on the lookout for the latest source of the next industrial revolution. The magic term here is 'deep tech', describing disruptive solutions built around unique, protected and hard-to-reproduce technological or scientific advances. Let's have a closer look at deep tech innovations and their characteristics.
How to disrupt the mobility sector
We all know Uber and their concept of ride sharing. With millions of users all over the world per day the company has successfully leveraged the sharing economy, much to the annoyance of taxi drivers in countries all around the globe. Taking a taxi nowadays is not only more expensive but also seems to be a lot more complicated compared to the user-friendly Uber app.
And then there is Lilium, a German startup aiming to offer all electric regional air mobility by 2025. Once in place, Lilium will enable you to travel 5 times faster than a car by introducing the world's first all-electric vertical take-off and landing jet: an air taxi for up to five people. You won't have to own one, you will simply pay per ride and call it with a push of a button. This concept will not only disrupt an entire industry but will also make wheels pretty much obsolete. Lilium's air taxi is a pretty picturesque example of what we call deep tech innovation.
Most of the technology companies out there are built on innovating existing business models or transitioning these business models from offline to online by using an already existing technology. These tech innovations focus on a rather narrow band of problems for businesses and industries by reinventing core processes and delivering new and more efficient outcomes in a short time span. In contrast, deep tech innovations focus on the bigger picture, are founded on a scientific discovery or meaningful engineering innovation and usually take a long time to reach market-ready maturity. Three attributes help to further characterize deep tech innovations:
Impact: They have a big impact and can generate enormous economic value, often disrupting entire sectors, making other businesses irrelevant or creating their own markets. Deep tech innovations can be described as novel technologies that offer significant advances over those currently in use. Many of these technologies address big societal and/or environmental challenges and will likely shape the way we solve some of the most pressing global problems.
Time and scale: Developed from years of research and lab testing, deep tech innovations take time to move from basic science to a technology that can be applied to actual use cases. The research leading to deep tech usually results in patent ownership or other forms of IP, making it tough for competitors to replicate it. Actual commercial success can also take longer since we're talking about highly disruptive technologies that might take longer to achieve real market adoption. The time needed to reach market-ready maturity vastly depends on the technology itself. For instance the "The Dawn of the Deep Tech Ecosystem" report conducted by Hello Tomorrow and BCG shows that it takes 4 years on average to develop a technology in biotech (1.8 years from incorporation to first prototype and another 2.2 years to reach the market), while the comparable figure is only 2.4 years for a startup in blockchain (1.4 years to first prototype and 1 year to market).
Large investment needs: Funding is a challenge for a majority of deep tech companies as their infrastructure, skills, and resources needed require substantial funding capacity over an extended period of time.
Many startups in the deep tech sector seek funding in the early research phase, which is often years away from being even close to market-ready. At the same time, especially early-stage investors such as business angels often struggle to understand the potential of a deep tech startup due to their complex nature. Despite this, investments in European deep tech startups have seen a significant increase over the last few years, from $3 billion in 2015 to $8.4 billion in 2019. 

In general, deep tech startups rarely follow the established funding road of "regular" tech startups (starting with a friends & family round, followed by angel or seed investment, then successive rounds of VC at increasing valuations, ultimately leading to an exit or an IPO). Due to the substantial capital requirements for their R&D, deep tech heavily depends on public funding as well as corporate venture capital. In addition, incubators and accelerators are essential partners as they offer not only funding but other critical forms of support.
Most prominent deep tech areas
The most active and promising deep technologies include advanced materials, artificial intelligence (AI), biotechnology, blockchain, robotics and drones, photonics and electronics as well as quantum computing. In those areas, deep tech innovations span the spectrum from very early research to market applications in full development. Possible fields of application for deep tech applications include agriculture, life sciences, chemistry, aerospace and green energy.
And if you feel like taking a closer look into the future: The 'Periodic table of disruptive technologies and innovation' shows 100 potentially disruptive technologies, which have been defined as those capable of significantly social, economic or political upheaval. The table, published in 2018 by English author, lecturer and Futurist Richard Watson, takes you all the way from smart nappies, humanoid sex robot and human organ printing to artificial consciousness – in other words: real deep technologies.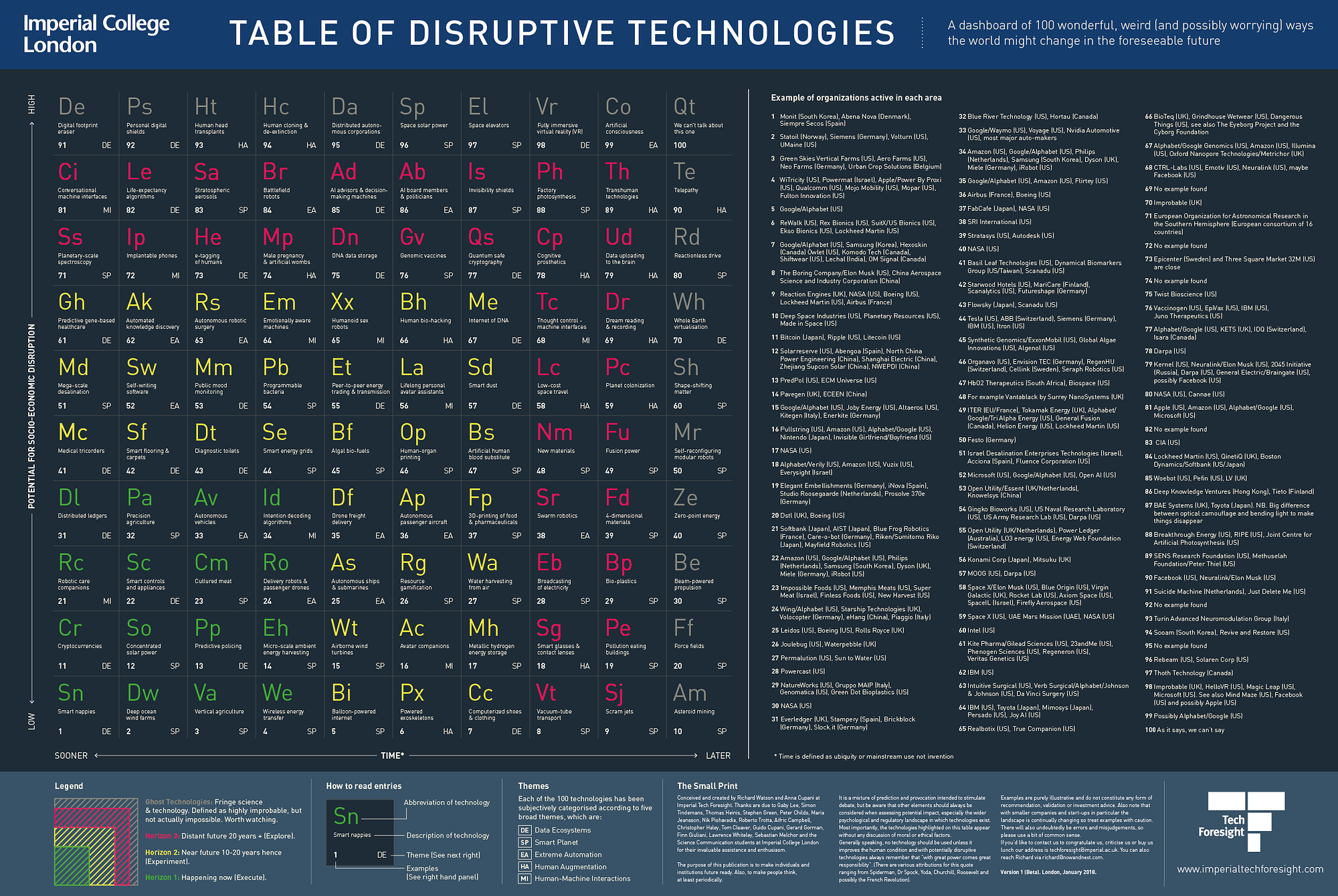 Coming back to Lilium again: the company – founded in 2015 – completed their latest funding round worth more than a whopping $240m in March 2020, bringing the total sum raised to date to more than $340m. They aim to start commercial services by 2025 and just announced that they will turn Düsseldorf airport and Cologne Bonn Airport into regional air mobility hubs for the North Rhine-Westphalia region. Seems like Lilium is tackling all the hurdles on their way to becoming market-ready well. Click here to see Lilium's all-electric jet in flight. We can't wait to take our first flight on board of their all-electric air taxi in (hopefully) about 5 years from now.
Your idea doesn't have to be deep tech to be considered eligible for support by the High-Tech SeedLab, a 10-month acceleration program designed to help early-stage teams to test their idea and business model, build or finalise a minimum viable product, and successfully launch their business. We are always on the lookout for innovative business ideas within the fields of sustainability, high tech and women in tech. If your idea checks two or more boxes, don't hesitate to get in touch with us.
Applications for our upcoming 2021 batch will open on 15 October 2020.
Sign up for our reminder email to not miss the deadline.

For more information feel free to email [email protected]