As promised earlier this month, we will introduce to you the three new startups in our accelerator program one by one. A couple of weeks ago, you had the chance to learn more about Humphry Marine, a Berlin-based startup that aims to make maritime transportation more sustainable.
This week, it is Innovo's turn. Hailing from Cali, Colombia, this startup wants to revolutionize 3D printing and industrial manufacturing by fixing a very specific, yet very important problem related to 3D printing with thermoplastics. We sat down with the team to ask them a few questions about themselves and their goals. Below are their answers.
In your own words, what does your company do?
Innovo works in the field of Industrial Additive Manufacturing (IAM), which has seen significant growth in recent years, with plastic that is as durable as metal. We're R&D driven and aim to develop the next generation of high-performance 3D printers.
What problem are you looking to solve and why is it important to solve it?
We are striving to solve a specific problem related to Fused Filament Fabrication (FFF), which is one of the most common types of Additive Manufacturing. Namely, we are working to address the issue of anisotropic strength in 3D printing in order to bring FFF up to industrial standards.
FFF has proven to be one of the most versatile 3D printing technologies in terms of speed, size, material selection, processing, and cost. It consists of extruded thermoplastic filament being deposited layer by layer on a build platform. However, as the layers of hot plastic are being 3D printed, they normally cool down significantly before other layers are added on top. This difference in temperature results in weak bonds between the layers. The end-result is an object that is much weaker along the vertical (Z) axis compared to the other two axes. The use of FFF in industry and engineering is therefore limited, because the mechanical behavior of the parts that are manufactured this way is unpredictable. Imagine if planes and cars were built with unstable 3D-printed parts!
Our R&D is focused on finding a solution for isotropic strength in 3D-printed parts through our proprietary technology. Achieving this would make it possible for high performance polymers (HPP) like PEEK, ULTEM and PPSU, with which we are working, to be used in IAM. These materials are engineering-grade thermoplastics that are as durable as metal and exhibit properties like high strength, high temperature resistance, and high chemical resistance. Because of their qualities, they are ideal for industrial applications and are already widely used in industries like aerospace, automotive, electronics, transportation, railways, and healthcare. The ability to 3D print isotropic-strength parts with these materials will be a game changer for industry.
Please introduce yourselves to our readers.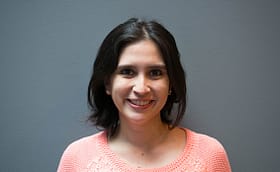 Angela Sofia Sepulveda, Innovo's CEO, studied communications and journalism. She worked closely with Colombian Roma minority groups for several years for research purposes, an experience that opened a whole new world of learning about cultural struggle, empowerment, and community strength for her. An entrepreneur at heart, Sofi has founded and managed several endeavors in her native Colombia, such as a film production company in Bogota, a co-working space in Cali, and an organization to support women entrepreneurs. Together with Adam, Innovo 3D's founder, they also started Cali Makerspace, the first such space in the city, which focused on organizing workshops, networking events, and hosting fairs and tradeshows. Cali Makerspace was filled with awesome curious people, tools, and Innovo 3D printers for everyone to play and learn with! That was a lot of fun!
All these meaningful learning experiences taught her about empowerment and strong community-based environments; she applied the lessons learned in her professional life.
Adam Rumjahn, Innovo's CTO and founder, is a maker and entrepreneur at heart. He made his first electrical circuit at the age of eight. Later, he went on to make longboards with his friends and to start his own clothing company, where he designed, printed, and sold his products. His biggest joy is being able to share his creations with the world around him. He studied mechanical engineering in Canada and worked there as an engineer for several years. His relentless need to learn how everything works coupled with his affinity for technology led him to work on various engineering projects, ranging from Formula-style race cars and magnetic bearing spindles to industrial automation machinery. Environmental sustainability is important to him, which inspired him to work in the wind energy industry. Adam's insatiable need to build things and tinker with them prompted him to start building 3D printers from scratch, which is how Innovo 3D was born. His hobbies include designing and building furniture, 3D-printed prosthetics, and plastic recycling machines.
Chris Palmer, Innovo's Operational Manager, studied engineering and has worked in hydrogen fuel cell and biotechnology R&D. He came to Berlin for a short visit four years ago. He fell in love with the city and is still here years later! Being interested in business as a tool for bringing new things to the world, he moved to Berlin to begin working on startups. He has co-founded two startups: Awesome Shield, which taught kids to code, and BrewBox, which developed automation equipment for craft beer brewers. Chris wants to bridge the technical and business worlds to help bring new technologies to the world, which is why he joined Innovo. He is also an avid member of the maker movement, and loves building things with electronics, code, science, crafting, and of course 3D printing. When he is back in Canada, he likes to go camping in the middle of winter. Chris also loves music and was part of several jazz bands over the course of 12 years, where he played drums and sometimes saxophone.
What prompted you to found your own company?
Our team not only loves building things and sharing them with others, but we also have a strong sense of exploration, community building, and creating a positive impact. We are problem solvers that want to bring about great changes in order to leave the world better than how we found it.
We originally founded Innovo 3D based on a team with which we would love to work everyday while developing new 3D printing technology. We wanted to bring this spirit and knowledge to our community of place in order to promote curiosity, learning, repairing, problem solving, teamwork, STEM education, and the bigger goal of empowering people. That made us realize that empowering others also empowered us. We then quickly discovered we could have a bigger impact if we took our technology to the next level and brought it to Europe. That's why we're here!
Because we see people as the most important part of any company (every company is really a collection of people, after all!), we are really excited to foster a phenomenal team and community that inspire us and to build amazing things every day.
How does the international character of your team impact your operations as a startup?
Our team's diverse perspectives and experiences definitely help us see things from many angles. We have found that this helps a lot with problem solving, finding opportunities, and coming up with creatives strategies.
Colombia's entrepreneurial scene, for example, really boosted our creativity as a tech company, partly because technical resources are scarce there and we had difficulties accessing modern technologies and solutions. As a result of this, people living in Colombia learn to be resourceful. And so did we. We really value this experience because it taught us to build stronger communities, share resources, be open about our needs, solve complex problems in simple ways, and do enormous amounts of networking. We were inspired by that experience and turned it into asset for and mantra of our company—give to the community before expecting to receive anything back. Basically, we learned that a good way to do tech is not through tech, but through people.
Canada is ranked as the second easiest country in the world to start a business. As such, the Canadian startup scene has grown significantly in the last decade and boasts some really interesting companies and clusters, like Montreal's biotech community. Montreal and Toronto are especially active in building their startup ecosystems and networks. Through them, we were exposed to tendencies and methodologies like lean startups and open source.
We also all love traveling and learning about different cultures and languages. We find such experiences inspiring and they help us to understand new perspectives. Thinking about things in new ways is always good exercise for the brain and helps with finding new ideas. We feel it is important to build this into our work and personal lives. Our travels have taken us to modern tech hubs like Shenzhen, Tokyo, and Silicon Valley, which have greatly influenced our resources (and palates!).
Why did you decide to move to Berlin?
We want to really drive Innovo forward and moving to an international startup hub is a great way to do that. We originally visited Berlin to take part in a competition organized by the Innovation Network for Advanced Materials (INAM) about six months ago. There, we met corporate partners that introduced us to new opportunities and applications for our solution. The feedback from industrial partners was truly eye-opening. This experience was the foundation of valuable collaborations with various stakeholders active in the polymers industry in Germany.
Having access to Germany's legendary manufacturing community is extremely helpful given our focus on manufacturing applications of 3D printing. Berlin also has many internationally renowned academic research institutions that are great potential partners. Moreover, the city has a really vibrant 3D printing scene. Add to that the fact that is a wonderful place to live… And here we are!
What are your expectations from the AtomLeap High-Tech Accelerator?
Our goals for the next six months are to begin a collaboration with an R&D partner, to meet more potential investors that could partake in our pre-seed round, and to establish our business in Germany (Innovo was previously based in Colombia).
We believe that the AtomLeap High-Tech Accelerator will be enormously helpful in enabling us to get started in the Berlin startup community. Guidance on the ecosystem and help with networking opportunities, along with knowledge about what it is like to be an entrepreneur in Berlin and about building a company in Germany are exactly what we are looking for! Also, AtomLeap has a deep understanding of funding opportunities and can help connect us with potential partners. We are really excited about this program!
Welcome, Innovo, to the AtomLeap High-Tech Accelerator and to Berlin! As for the rest of our readers, we hope you found Innovo's story inspiring. If you want to follow in their footsteps and need help to accelerate your startup, feel free to get in touch with us using the contact form on our homepage.